By Lindsey Piercy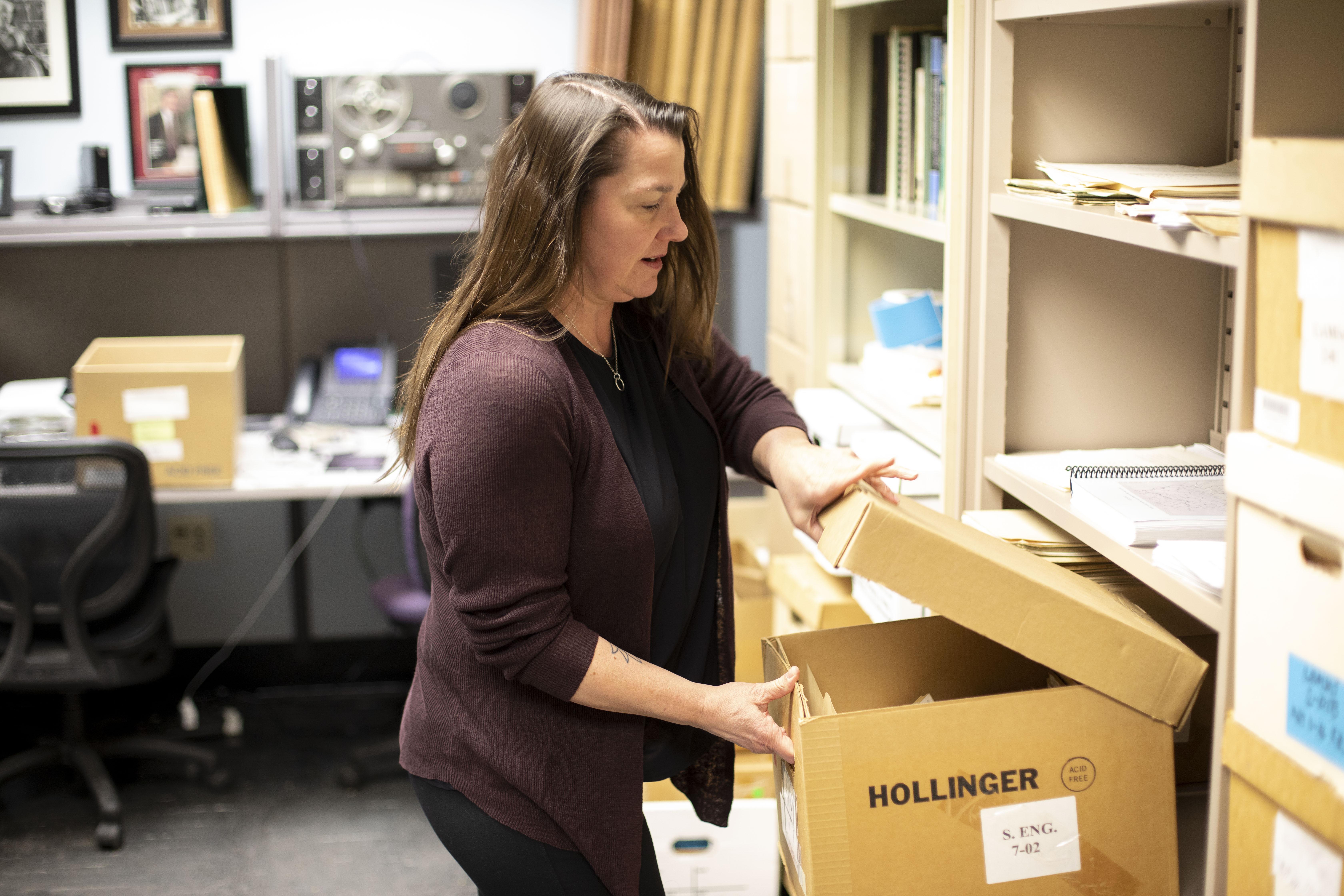 Depending on where you are in the United States, if you're hungry for something made of cornmeal, you might be ordering a johnnycake, a cornpone hoecake, some spoonbread—or any of more than 200 variations on just that one menu item.
Those are just a few of the linguistic variations one can find in the Linguistic Atlas Project (LAP), the largest survey of American dialects, which contains 90 years' worth of linguistic data and more than 800 items whose names change according to geography. The astonishing project now resides in UK's College of Arts & Sciences.
"The thing that surprises me about the Atlas data is not necessarily any particular term, but more the sheer number of terms that people have and use for everyday items around the house, farm (at least back in the day) and community," said Allison Burkette, a professor in the Department of Linguistics. 
Started in 1929 by the American Dialect Society, the LAP collects linguistic data using a comprehensive, systematic approach. Over the course of many decades, the project has moved from various institutions, eventually landing at the University of Georgia, where it stayed for more than 25 years.
"I was introduced to the Atlas at UGA and worked on the project as a graduate student," Burkette said. "Eventually, I was tapped to be the next project editor, and UK was chosen as the permanent home. So, in 2018, both the Atlas and I came to Lexington together."
The project is a valuable historical record of not just language use but American culture. It includes more than 8,500 hours of digitized data, and the project has a strong reputation in digital humanities and complex systems research.
"UK was solicited because we have a strong and growing reputation in sociolinguistics and specifically linguistic geography," said Jennifer Cramer '04, chair of the Department of Linguistics.
Here's how it works: The LAP consists of several sub-projects divided by geographical region. Each project represents the collection of linguistic data (grammar, pronunciation and vocabulary) in the form of dialect interviews.
In these face-to-face conversations, participants were asked a series of targeted questions. For example, "What do you call the piece of furniture that has drawers for you to keep your clothes in?"
"Bureau, chest of drawers and dresser were common answers in the 1930s and '40s," Burkette said. "Researchers wrote down these responses in International Phonetic Alphabet (IPA)—a set of symbols that linguists use to capture pronunciation."
A renowned scholar of language variation, Burkette is working to digitize the collection.
"We have interview data in many formats, including handwritten field notes in IPA, aluminum disk recordings, reel-to-reel tapes, cassette tapes, CDs—many different media that represent the technologies of many different eras," she said. "We're trying to physically organize it, and digitize as much as we can, so that it can be made available via the forthcoming UK LAP website."
Additionally, Burkette and her team of faculty, staff and student researchers plan to conduct follow-up interviews throughout the Commonwealth. The interviews will be compared to those from the late 1950s and '60s to learn more about how language in Kentucky changes over time.
"These students get hands-on experience working with linguistic data, through transcribing the handwritten IPA," she said. "They interact with LAP material at both ends of the spectrum—the physical and the digital. Additionally, we will be training students to conduct interviews as well, which will give them experience in the field and allow them to contribute to the larger project."
The LAP materials are in the process of being transferred. With the help of UK Libraries, they will be made widely available to the UK community and beyond—making the project a centerpiece for future engagement and outreach efforts.
"Linguistics as a field generally encourages people to appreciate diversity within language. Being able to document the breadth and depth of that diversity in American English makes the LAP a very special project, unlike anything else out there," Burkette said. "The LAP can provide people of Kentucky, for instance, with access to varieties of speech and culture in the state and instill a sense of pride in those varieties."
Samples of different terms:
Terms for breads made of cornmeal: cornbread, johnnycake, cornpone, hoecake, spoonbread (plus more than 200 more).
Terms for place where the dead are buried: graveyard, cemetery, burial ground, boneyard, skull orchard.
Terms for vegetables from the garden: garden sass (a variant of "garden sauce"), and garden truck (which is related to our idea of "trucking" goods from one place to another).
Terms for the cheese made from slightly soured milk: cottage cheese, bonny clabber, bonny clapper, labbered milk (plus many more).
Terms for dragonfly: snake feeder, mosquito hawk, devil's darning needle. (In Kentucky, one finds    "devil's racehorse"!)
Terms for frying pan: frying pan, fry pan, skillet, spider (especially in Appalachia).
Terms for attic: attic, garret, loft, sky parlor.
Terms for bacon: bacon, breakfast bacon, breakfast strips.
Terms for blood pudding: souse, head cheese, scrapple, hogshead cheese, ponhaus, liver pudding.
Terms for closet (built-in): closet, clothes closet, clothespress, cupboard, clothes room.
Terms for deep-dish pie: (apple) cobbler, family pie, pot pie, (apple) pudding, deep dish pie, (apple) grunt, pan pie.
Terms for doughnut: doughnuts, fried cakes, fritters, fat cakes, flitters, fossnock, raise(d) doughnuts, olie koek (Dutch).
Terms for kitchen: kitchen, cook room, stove room, summer kitchen, cook house.