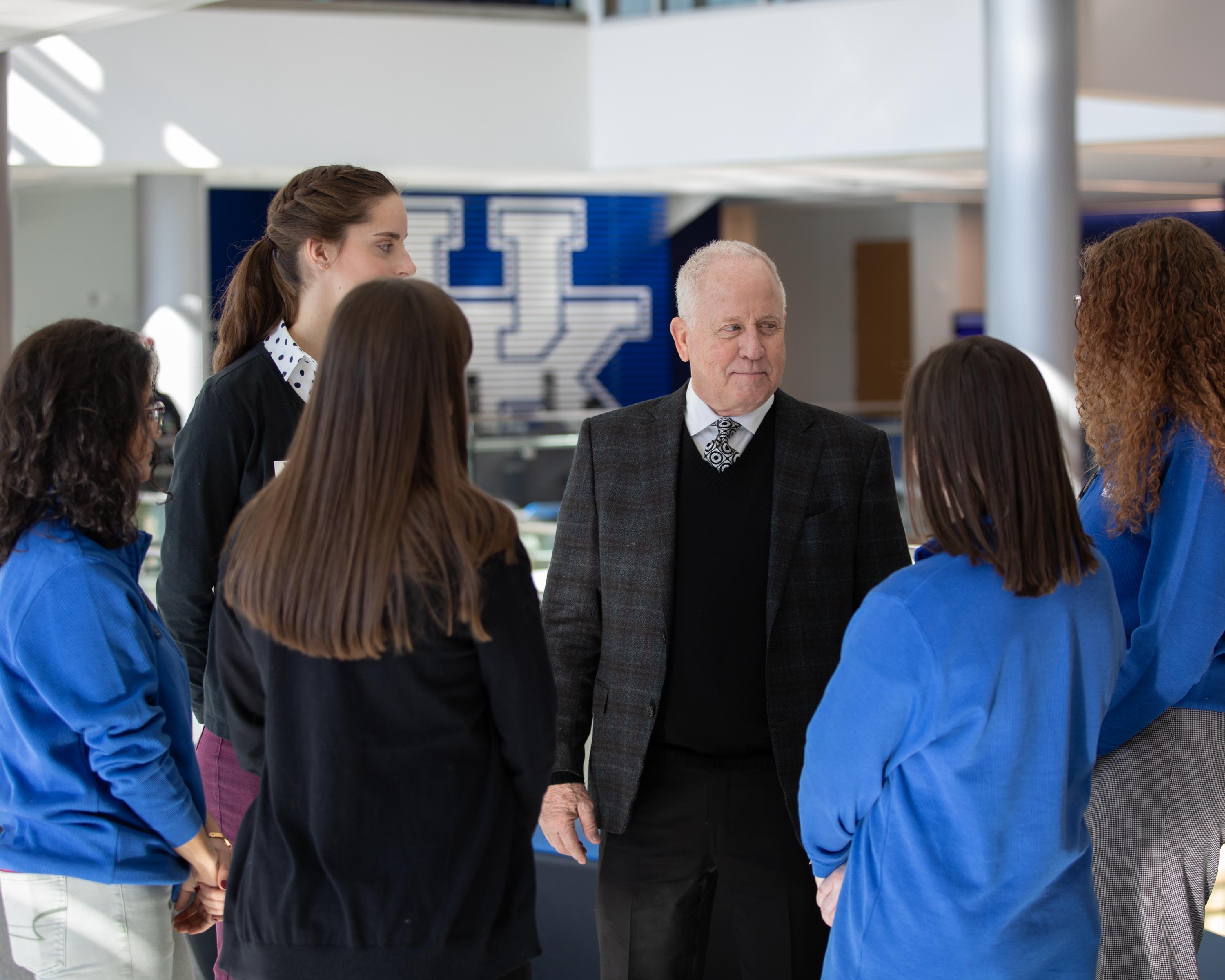 W. Bruce Lunsford, a UK alumnus, lawyer and businessman, recently established the Lunsford Scholars Program in Citizenship and Public Service in the College of Arts & Sciences with a $1 million pledge. 
The Lunsford Scholars Program provides Arts and Sciences students the chance to pursue out-of-the-classroom educational opportunities including education abroad, internships, service-based learning and undergraduate research both locally and outside of Kentucky. Aside from student scholarships, the donation also supports a symposium and speaker series to be held each year. 
"The college is excited about the opportunities that we will be able to provide our students through the Lunsford Scholars Program," said Clayton Thyne, chair and professor in the Political Science Department and Lunsford Scholars Program director. 
Citizenship, public service, government affairs and democracy have been important to Lunsford in his life and career and are central to the program. Scholarships will be awarded to students on a competitive basis with a GPA and credit hour requirement. Learn more by visiting lunsford.as.uky.edu.
"Bruce Lunsford is an established innovator, leader, and successful businessman.  We are delighted that he has invested so heavily in our students.
His contribution will allow us to produce skilled and experienced public service-oriented students who will make positive impacts on the Commonwealth and beyond."
Clayton Thyne, 
Department of Political Science professor and chair and Lunsford Scholars Program director
Q: You have been a strong supporter of UK for a long time. What made you decide to support the College of Arts and Sciences through this particular gift to create the Lunsford Scholars program?
A: I go way back with UK from the time I was a kid because of UK basketball, growing up listening to it and those types of things, and it was my goal to go to the state school at the time. I majored in Arts and Sciences to begin with, and then later on I wound up taking all of my electives in accounting because I was intrigued by business. The College of Arts and Sciences gave me a quality education in big areas like history and political science, which lined up well with my accounting classes, and then I decided to go to law school at night. Looking back, there really wasn't much that I could have asked for from the University of Kentucky that I didn't get. I've seen the tremendous growth spurt and improvement since Eli Capilouto took over. I'm a big fan of his. That really inspired me to start getting more involved financially with the University.
Q: What are you hoping students will gain through the Lunsford Scholars program?
A: I'm a real believer in opportunities that go along with your education. There is no reason why you shouldn't be able to get an education with some type of internship or through an opportunity where you can put your education in motion. I think it's great that these students have the chance to do that through the program, whether they're in Washington, D.C., or out in the country or whatever they decide to do. I think you miss something if you don't spend some portion of your time in some form of public service, and I'm hopeful that this program will encourage people to do that. 
Q: Why do you feel that learning experiences like internships, education abroad, undergraduate research or service-based learning are important for today's students?
A: There's only so much you can get from reading books and going to classes and, a lot of times, when you get to a situation where you think you want to be something but aren't sure, these opportunities give you a chance to look at things more objectively and say, "Maybe that isn't what I want to do," or "Maybe this is what I want to do instead." 
Q: What do you feel were some of the most formative experiences or lessons throughout your career?
A: I strongly believe in formative years where you spend a portion of your life learning and preparing to live and the rest of it actually living. I crammed a lot into a short period of time. I did five years of public service in accounting, passed my CPA exam and moved on to practicing law. It was a great experience for me with a great firm in Cincinnati. 
When John Y. Brown ran for governor, it turned out that his campaign manager was my roommate in college, so I got involved. The next thing you know, I had the opportunity to join his administration in a couple of different roles which gave me a lot of exposure to the way government works. I wound up running our legislature when I was 31-years-old and doing that, I learned the complete budget of the state, how bills are passed, what they mean and how much impact they can have. The experience itself was actually kind of overwhelming and it let me realize how much impact government has on America, at all levels. I've never forgotten that.
Q: If you could share a bit of advice with students, what would it be?
A: One of the best things I learned was the value of meeting people and finding the right people to be with and trust, and that was what the University really did for me. My fraternity was very good to me and I'm still close with several of my fraternity brothers. I think you gain an instinct for asking the right kind of questions in order to figure out if you really want to invest time in certain people.