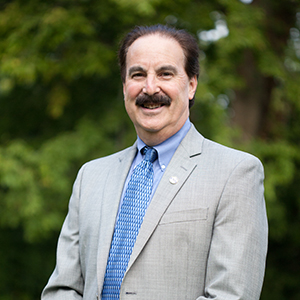 Dear Friends,
Did you know that the College of Arts & Sciences accounts for nearly half of all undergraduate hours at UK and produces the most doctoral degrees? We in the Dean's Office are committed to strengthening that vital work. This issue of Ampersand showcases a year of outstanding achievement in teaching and research by our students and faculty in the College. With the help of loyal alumni who understand the value of our mission to advance knowledge, we are changing the lives of our students, our communities, and the world at large. 
Key to our forward progress is marking past successes, and each October we celebrate the best and brightest of our alumni and faculty at the Arts & Sciences Hall of Fame. On p. 4-5 you can learn more about last year's honorees and see the names of this year's, who will be inducted on October 19. 
I often speak about study abroad experiences and their lifelong impact on students, and a wonderful example of this is Harrison Bailey (Geography '49), whose undergraduate trip to Mexico sparked an interest in geography and cartography that led to a long and fruitful career with the U.S. Defense Mapping Agency. It was also on this trip that he met his future wife, Eva Lewis Bailey '48 (see p. 6). 
The Living Learning Program known as STEMCats was inaugurated at UK in 2014, which means that this spring we are graduating our first class of participants. This highly successful program for freshmen increases their exposure to STEM fields and faculty, provides immediate research opportunities in their first year of college, and nurtures a community of like-minded students. You can read more about the difference it made for two students on p. 8. 
Ampersand also profiles groundbreaking research by English professor Peter Kalliney into the CIA's role in funding writers from Africa and other decolonizing areas of the world during World War II, whom they thought would be sympathetic to U.S. objectives. Kalliney was awarded the highly prestigious Guggenheim Fellowship for his investigation, which you can read more about on p. 10. 
And finally, who can resist a story of love at first sight? The Swanberg family got its start at UK in more ways than one and now boasts four graduates of UK, parents Greg '85 and Joan '81, plus two of their three sons, James '09 and Michael '12. All of them earned their UK degrees on nontraditional timelines, especially Greg, for whom the flexibility of the Bachelor's of General Studies degree allowed him to pursue a fruitful career as a civilian contractor for military facilities. The couple's desire to give back to UK has led them to establish the Mill House Residency for creative writing MFA students on their property in Virginia (see p. 20). 
I hope these stories in Ampersand convey the many ways in which the College integrates innovative research with exceptional teaching, which provides pathways to understanding the past, solving the problems of today, and imagining possibilities for tomorrow. Our successes of the past decade would not have been possible without the generous support of you, our alumni, donors, and friends. Thank you for your enthusiasm for our work.
Yours,
Mark Lawrence Kornbluh
Dean, College of Arts & Sciences