A&S graduate students profoundly impact campus, the Commonwealth and beyond
By Jennifer T. Allen
Graduate students are the key to research productivity across the University of Kentucky campus. They will be the next generation of researchers and innovators, and they are often mentors and instructors to undergraduate students.  Many graduate students spend hours working at their desks, in libraries, or in laboratories hoping to find the next breakthrough. Others devote days to fine-tuning teaching plans for the classes they instruct. Their work in the College of Arts & Sciences enriches our campus, our teaching, and our research, as well as all of the lives touched by the University of Kentucky domestically and around the world.
College of Arts & Sciences graduate students are selected for their talent, commitment to their fields, and work ethic. Their presence on our campus adds an important component to the innovative environment we strive to create. Each graduate student has a different story of how they ended up on UK's campus, how they found their passion, and where they hope their studies will take them. 
Here are three of those stories.
Kaylynne Glover
3rd year Ph.D. Candidate, Department of Biology
Kaylynne Glover realized she wanted her career to touch the lives of students when she was in high school. "I had a really influential science teacher, and I want to be that for other kids," she said. 
Now 15 years later, Glover has touched the lives of countless students as a college adviser, a college teaching instructor and mentor, and scientific literacy lecturer. 
"I love teaching. I love being in the classroom," Glover said. "I don't think there is anything more powerful than helping someone change their life. That's why I do what I do. It's why I went into teaching. It's why I love mentoring. Being able to give someone the tools to change their life is the most gratifying thing in the world."
Glover received her bachelor's in Earth science from the University of Central Arkansas and taught high school science for a year before enrolling in Arkansas State University. After obtaining her master's in biology, Glover worked as a pre-professional advisor at Arkansas State University for science students in the College of Arts & Sciences. 
"I love working with my students," she said. "I have been recruited to medical schools, but I have never been really interested in being a doctor. I always say, 'Why be a doctor when I can make doctors?'"
After working as an advisor for five years, Glover realized the research she left while working on her master's still followed her. "I study the evolution of human reproductive behavior, and I had to go back and explore that research more," she said.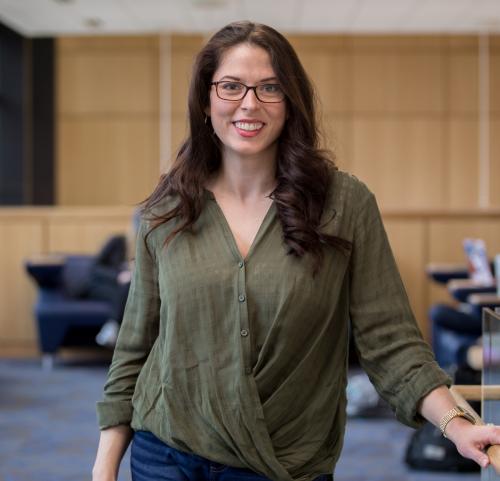 She also plans to work in science literacy and policy. "I want to help the community accept science and help scientists seem less standoffish—to help them reach out to the public more," Glover said. "Often we get stuck in our research and aren't thinking about how to communicate effectively or how to bring people into our research."
As a third year doctoral candidate, Glover is currently working on three different research projects while mentoring undergraduate students in the lab. Her first research project looks at sexually coercive behavior and trying to predict factors that can influence the behavior and how it emerges in both humans and non-humans. She recently had her first paper published on the topic in the "Journal of Behavioral Ecology and Sociobiology." Glover is also looking at the degree to which women are able to perceive their own fertility and building an app that tracks women's fertility, asking about sexual behavior and general behavior throughout a woman's cycle. 
As she has throughout her career, Glover continues to connect with students at UK. She takes her mentorship responsibilities seriously. "It's often difficult for undergraduates to go to their professors. Having graduate students helps bridge that gap," she said. "Mentoring undergraduates also helps recruit students for graduate school."
Glover believes relationships are key when it comes to inspiring someone. "Graduate students are the people you develop more of a relationship with by virtue of their position," she said. "I would not have gone into science education if I had not had a relationship with my high school biology teacher that inspired me to do so. It sparked a passion in me."
Being part of the inspiration that can affect change in someone's life is also the reason Glover is active in the Graduate Student Congress on campus. She is currently serving as president. "I love our community. There is a lot on campus for graduate students and a lot of resources," she said. "There are so many ways for graduate students to get active on campus and fight for change."
If three research projects, mentoring undergraduates in the lab, and being active on campus wasn't enough, Glover is also the director of advocacy and social justice and director of legislative affairs for the Midwest Regional National Association of Graduate-Professional Students. 
"I've realized the classroom is too small for me," Glover said. "I want to work on a larger scale. I want to affect change for as many people as possible."
Justin Strickland
4th year Ph.D. Candidate, Department of Psychology
Justin Strickland has been working in research labs since he was an undergraduate at Davidson College in North Carolina. 
"I majored in psychology and biology, so I spent a lot of time working with several different research groups," Strickland said. "My primary research interests were preclinical research and working with animal models of substance abuse."
After three years working with animal models, Strickland became interested in working with humans in a laboratory setting. During the summer before his senior year, he came to UK to work with William Stoops, a professor in the Department of Psychology and Behavioral Sciences, in the Laboratory of Human Behavioral Pharmacology. When it came time to apply to graduate schools, he knew he wanted to continue his work with Stoops at UK. 
"The UK Psychology Department is a big place for addiction research. There are a lot of really great addiction researchers, and the department has a great program for bringing undergraduates to campus to do research over the summer," Strickland said. "I came here for the doctoral program and am doing a master's along the way."
While working with Stoops, Strickland is looking at different behavioral and pharmacological interventions for substance abuse. A lot of the lab work deals with medication development for cocaine and other stimulant use disorders. 
"It was a very nice transition from what I did as an undergraduate. The big difference now is that I'm primarily working within the human laboratory," he said. "We are looking at different interventions and are in phase one/early phase two-type trials to determine the safety and efficacy before we go into large-scale trials." 
Strickland was an outstanding undergraduate with many offers to top graduate programs in the country. What lured him to UK was his relationship with Stoops, but also the additional financial support from the Robert S. Lipman Graduate Fellowship in Psychology. Such support is crucial for recruiting the most talented graduate students. Now with a National Science Foundation Graduate Research Fellowship, Strickland has been able to focus on his research. Even though he hasn't had formal experience teaching a class, Strickland assisted in an Introduction to Behavioral Neuroscience and Biological Psychology class as well as mentoring undergraduate students in the lab. 
"I love interacting and mentoring students," he said. "We tend to have a lot of rich experiences for students in the lab so they are able to truly take part in the research."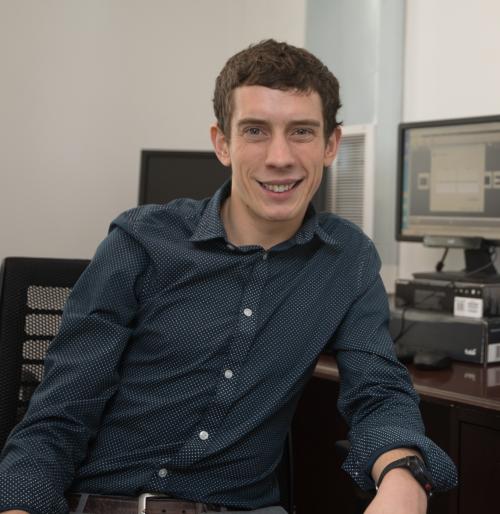 And Strickland knows firsthand how important research experience is for undergraduate students. "Thinking back to my undergraduate experience, getting to jump into labs really quickly was key to finding my passion," he said. "I went into college wanting to be a film critic until I experienced working in a lab and doing research. Working in a lab is a really unique and special experience because you can learn knowledge of things in a classroom, but a really important skill is learning how to do things." 
While mentoring is an important part of graduate students' work on campus, their expertise and help in laboratories is crucial. 
"Having graduate students allows faculty to pass on their knowledge to a new group of people. It really allows you to have individuals you are working with who are eager and excited to do the work," Stoops said. "The work researchers are doing on campus would absolutely not be able to be done without graduate students." 
With a year left until defending his dissertation, Strickland plans to stay in academia, ideally at a science research intensive institution within the context of a medical community, like UK. 
"I've really loved working with people because you can really see the impact your research can have," he said.
Deirdre Mikolajcik
5th year Ph.D. Candidate, Department of English
 Deirdre Mikolajcik's love of literature began as a young child. 
"My dad will just quote poetry at you and my parents always made sure the TV was off and we were reading," she said. "They instilled in me a love of reading and writing and engaging in ideas."
Mikolajcik received her undergraduate degree in creative writing from Lewis University outside of Chicago and earned her master's in English with a focus on manuscript print culture and editing from the University of Missouri-Kansas City. While working on her master's degree, she came across two scholars' work she admired: Lisa Zunshine and Ellen Rosenman, both faculty in the Department of English. 
"When I was looking at schools for my doctorate, that put UK on my radar," Mikolajcik said. "I was accepted to both UK and Syracuse, I chose to come here because I really liked the faculty and the healthy graduate student community in the English Department. I wanted to go somewhere where people were going to challenge me and also support me."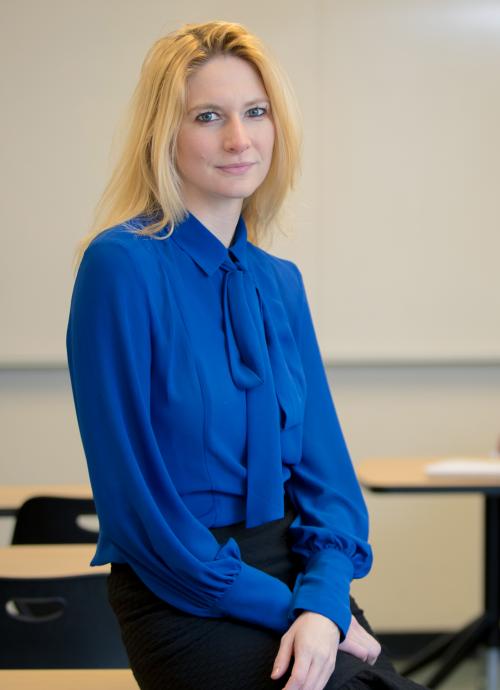 Teaching has been a large portion in Mikolajcik's graduate student career—eight years to be exact. She has been teaching classes since she began work on her master's degree and has been at UK since 2013. 
"I've taught everything including freshman composition and communication introduction, business and technical writing, introduction to film, and a British literature survey," she said. "Seeing my students' improvement is really the best thing."
This semester is the first time Mikolajcik isn't teaching a course since starting her graduate student path. She received the College of Arts & Sciences Dean's Competitive Fellowship, which allows her to focus on completing her dissertation. Thanks to additional financial support from the Jill M. Rappis Endowed Fund in Arts and Sciences, Mikolajcik was also able to travel to New York to complete research on the writer Anthony Trollope for a chapter in her dissertation. 
Mikolajcik's dissertation research stems from one line in a Victorian novel, "North and South" by Elizabeth Gaskell. "In this particular line in the book, a mill owner is complaining about his workers and their 'dishonestly enjoyed pleasure,' and I'm left wondering how pleasure can be dishonestly enjoyed," she said. "It took me down a rabbit hole, and I started looking into what people did for pleasure during the Victorian period and why the mill owner would have such a problem with it. It has ended up being tied to ideas of manliness, masculinity and class." 
Mikolajcik published a peer-reviewed journal article on the topic in "Victorians: A Journal of Culture and Literature" and presented in Greece this past summer at the International Association of Byron Societies Conference. She plans to turn her dissertation into a book once she is in a faculty position and hopes to teach 19th century literature. 
Along with teaching comes mentoring undergraduate students, and Mikolajcik knows the importance graduate students play in that role. 
"Graduate students are pretty much the first line, the first encounter for undergraduate students. I communicate to my students that face-to-face contact with faculty members is so important," she said. "If we, as graduate students, can help them with that adjustment and get them ready for when they are in smaller classes with faculty, we will send them along with more confidence and stigmas broken down." &