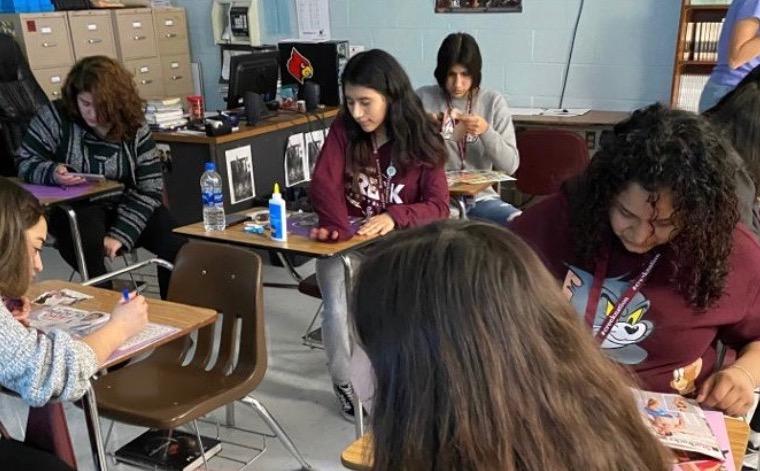 When Isabella Morales' older sister Maria was a high school student in Lexington, she noticed a lack of mentors who looked like her or who had lived her experience – that of a Latina student in a majority-white school. As a student at UK, she decided to do something about it by founding Leading Latinas, a student organization that mentors Latina high school students and encourages them to apply to UK.
Leading Latinas is now three years old, and the group is active in three Fayette County high schools – Tates Creek, Bryan Station and newly-added Dunbar. Maria Morales is in graduate school at Baylor and her sister Isabella Morales, a UK senior, is continuing the mission. Isabella, a psychology major with a minor in Spanish, hopes to become an occupational therapist. She says she had her sister as a mentor and wants to provide that same experience for other girls.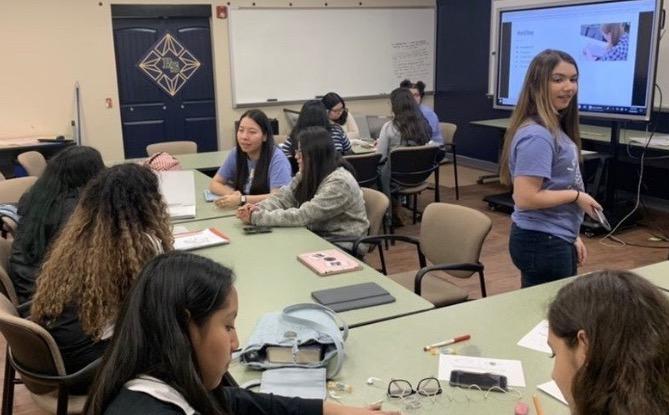 "We sponsor sisterhood," Morales said. Leading Latinas currently has 33 mentors and is reaching over 80 area high schoolers this year, mostly sophomores and juniors. UK mentors meet with the high school groups once a month and are bringing the students to campus in April. The mentors are familiar with particular challenges faced by many Latinx students. "Coming from immigrant families, education is important, but parents don't always know how to get you there," Morales said.
"We want to get to know the students better, their interests, help them build up their resumes. We speak to their parents, do an informational system for them too, arrange a tour of UK and answer financial questions. We want the students to hopefully get to UK and join Leading Latinas and continue this mentorship cycle."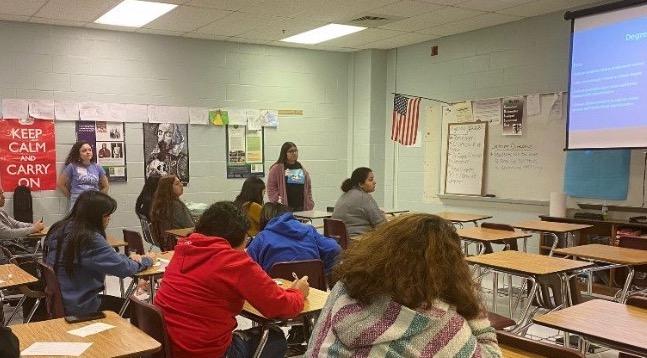 Viviana Cordova, a junior at UK double majoring in marketing and management with a double minor in psychology and French, attended Garrard County High School. Initially, Cordova served as an off-campus mentor, and she enjoyed giving back to students facing some of the same issues she dealt with in high school. "My hometown Lancaster influenced how I am now; now that I'm here and I'm involved, I know my Hispanic identity better," she said. "It helped me realize what I was missing and the struggles that everyone goes through. I see this leadership program as a way of leading by serving others, making a difference, even if it's a small difference, in someone's life."
Cordova is now the club's lead on-campus mentor where she focuses on recruitment and the planning of the spring campus tour. "The goal [of the tour] is to put the girls in our environment so they can see themselves as students here," Cordova said. "We want them to know the opportunities available to them." The tour features guest speakers, details on how to apply, scholarship information, a resource fair, Q&A with Leading Latina mentors, lunch and a campus tour.
Morales' advice to new Latinx students at UK is to get involved. "I would tell them to join organizations, like Underground Perspective, and find other students who they can relate to," she said. "UK focuses a lot on its student organizations and a lot of things are student-run. Sororities are not the only option, there's study abroad and even opportunities in your field, such as research-based opportunities."
Cordova echoed this sentiment. "UK has hidden treasures, you just have to look for them," she said. "If you look for them, you do find those little niches that are meant for you and you find your place here, what's meant for you. You have to put yourself out there."
In addition to expanding the number of high schools and students that it reaches each year, Leading Latinas is also planning to expand its offerings by creating an annual parent-focused event.
Follow Leading Latinas on Instagram: #ukleadinglatinas