By Rosanna Willhite
On October 2, 2014, the Center for English as Second Language, represented by Lina Crocker, partnered with Jan Romond, coordinator of the exhibit, to have an art exhibit in the Student Center at the University of Kentucky. The art exhibit showcased pieces from students of Magoffin High School in Salyersville, KY on storm stories that were a result of a tornado that struck the Salyersville area in March of 2012.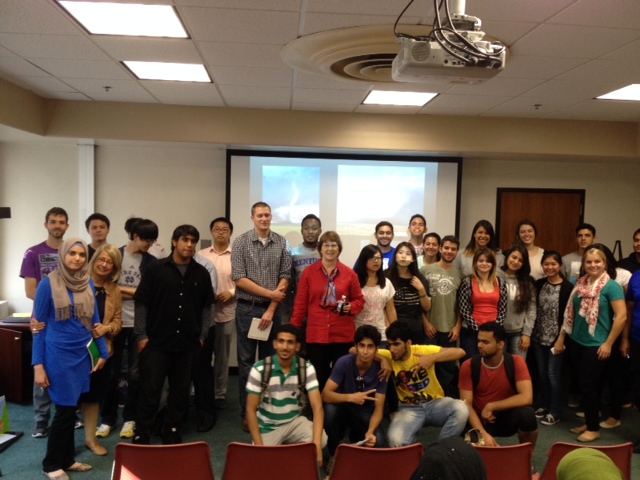 Jan Romond, responsible for orchestrating this event at UK, gave an introduction to the history of the 2012 tornados that had left "widespread destruction in its path." Two years later, an art teacher from Magoffin High School, Andrea Parsons, is working with the Storm Recovery Ambassadors project to create visual art that offers the opportunity to redeem tragedy by allowing young survivors of severe weather to share art and educate others about severe weather and safety procedures. Matt Dixon, meteorologist from UK Agriculture, also spoke about what causes severe weather and the best precautions to take if you find yourself in severe weather. Lina Crocker, full time lecturer at CESL, partnered with Jan Romond to let international students know about this opportunity to view art and witness remarkable stories of triumph while raising severe weather emergency awareness.
Over two hundred students and staff had the privilege to admire the artistic expression of individual challenges with and triumphs over natural disasters and hear about the safety precautions to take in severe weather. The event was remarkable. Dr. Bailey, Director of Graduate studies for the Master's of Teaching English as a Second Language, was impressed with the exhibit. He expressed that he "loved the art pieces that the students created" and commented that is was a "wonderfully moving exhibit, in which a teacher organized an opportunity for students to use art and words to engage and confront a devastating natural disaster. I think it is a priceless example of the power of art to reframe the world."
Thank you to Jan Romond, Matt Dixon, Lina Crocker, and most importantly the Magoffin High School students who presented. It was a privilege to see their art and recognize the resiliency, education, and community in which these students and Salyersville are using to recover from their tragedy. Your art and spirit are admired.